You need to understand the importance of email warm-up for your specific domain.
Have you seen your spam folder? It might be full of emails that are known/unknown to you, but you just missed them because they didn't land in your inbox.
The reason emails land in spam is that the sender reputation is not valid, the email is not warmed up, or maybe it's an unknown domain.
Emails are an important strategy of any business venture, and if you're new to it, then you have a lot to learn before getting started.
You may read lots of guides and articles, but still, your email warm-up process needs work.
Once you create an email account, you can't start emailing your targeted personas right away. First you have to be patient. Because you need to do a lot more before hitting the send button.
You need to warm up your email account in order to maximize your deliverability, with the key purpose being to stay out of spam jail.
This is to inform you that if your email is not warmed up before starting a campaign, then say hello to the spam folder.
Do you know…
Email spam costs businesses $20.5 billion every year? It's the worst thing you can ever do in your whole business career.
Your email gets marked as spam if it is unauthorized, and it is unhealthy for your email account. You may be a good sender and want to grow your business in an ethical way, but the internet doesn't care if you get sent to spam.
The good news is that you can find a way to solve this!
I know it's not fair, but there are a lot of spammers out there and you should keep your account safe from them.
The only solution is to warm up your email account to improve your spam rate.
Why is it so important to warm up your email?
Do you know how many times you've been protected from frauds just because of the security ISP provides?
ISP is basically a score that gets assigned to an email sender. This score evaluates the sender reputation.
ISP prevents from frauds and spammers and sets the standard to provide equal treatment for all email accounts.
No matter what, they will not do you any favors if they find you suspicious. You emails will wind up in spam if your domain isn't warmed up.
So, take notes! If you don't warm up your email address and domain before sending out a huge number of cold emails, the ISP will not let your email enter your recipient's inbox. And your email is likely to be found in your contact's spam folder.
How can you warm up your email account?
Authenticate your email account
In order to authenticate your account, you need an email account that specifies your domain.
Also, ISP is the only one that can approve it by setting the three parameters that are SPF, DKIM, and DMARC. It gives two positive signs like "I acknowledge that I am the one who sent this email" or "this message is not altered."
You can change any of the parameters if it is required and check out the free tools we provide.
You can instantly check out the result and get the authentication. With SPF checker, you just need to enter your domain and you can find the results quickly.

Here: v=spf1 a mx include:helpscoutemail.com ~all
If an ISP finds any message from other email clients, it will throw it in spam.
Initiate your email warm-up process
Let me introduce the whole warm-up process that is the most important of all. Starting with the newly created email account, don't dare to send thousands of emails. Your account couldn't bear this many emails in one go.
So, gradually increases the number of your emails. Let's say you send 5 emails to the valid email IDs. Maybe ⅗ of the emails will get opened, and maybe someone will also reply to your emails.
On the next day, you send 8-10 emails again to authenticated users. And the remaining process will remain the same until you become a valid email sender.
It accumulates your reputation, but it's a lengthy process. You have to wait months, and each day you have to send an email to run your account properly.
Why not make it automated? Warm Up Your Email can save you time and make this process automated. You just need to get started with the following steps:
Connect your email account
2. Set up your email campaign
3. And just keep watching the spam rate going down in your dashboard!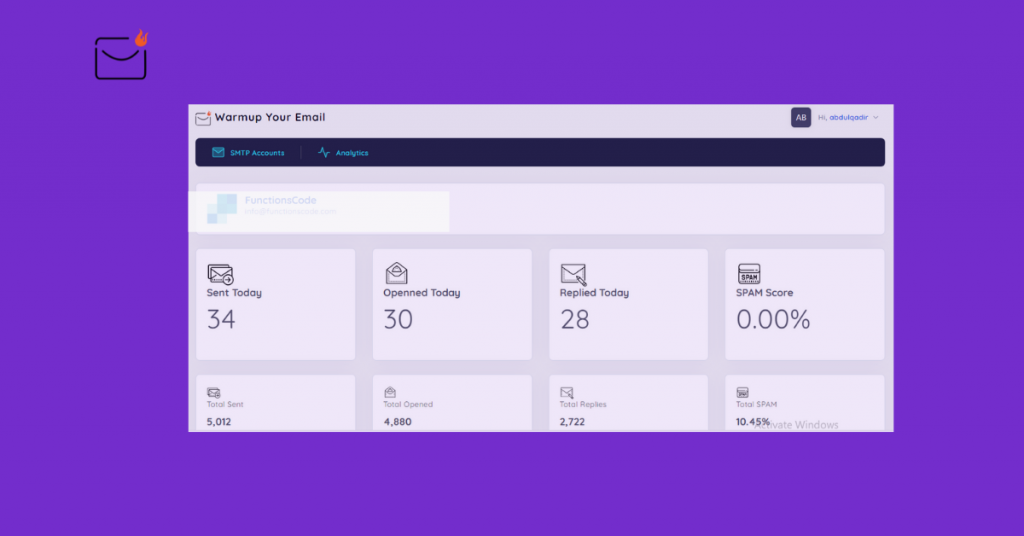 We take all the actions that need to be done and interact with your email in a positive way. And as a result of this, your email will land in the primary inbox.
In this way, we complete all the warm-up processes for all the email clients like Gmail, Yahoo, etc., and here you'll stay out of the spam folder.
Write your first email
This is one of the important tasks to write email copy with perfection if you're not an experienced writer. Initially, I got stuck whenever I started writing.
But one day I decided to take every possible effort and make my email copy worth it.
I came to know that the intention of your email copy is to tempt people and eventually make them your customers. It must be personalized to convince the reader to perform your desired action without violating the ESP's rule.
I tried to be careful of all the spam trigger words in my email. There are terms that have been identified as being too manipulative, pushy, creepy, or conjuring up bad feelings that will trigger spam.
And if you are going to add a link for your desired action, please don't use the exact URL. You can make anchor text and insert your link to be more visible.
Frequency of email sent
The volume of your audience may be thousands, but when it comes to email warm-up, you need to set your number of emails. "How many emails should be sent" and "when to send your emails" are important to think about.
This is the important process for email warm-up as it is gradual progress. Once you are done with this, you can send emails on a regular basis.
To automate your campaign and workflow, I found Warm Up Your Email, an instant tool that can seriously take care of your new account. You can decrease the spam rate and build your email sender reputation without much effort.
Time is money and if you're not reaching out to your customer at the exact right time then you can lose your revenue. Based on data, the worst times to send emails are from 6-7 PM and 9-10 PM.
Firstly, it is not working hours. Most people are at home and enjoying "me time" or doing their favorite activities for their peace of mind. And you can imagine how easy it is to ignore emails they receive at that time.
Launch email campaign
You are all set and ready to go for your first email warm-up campaign. That's the whole process that can exceed your expectations because warmed-up email accounts have better deliverability and would give better results in case of cold emailing.
It takes time, but the result will astonish you once your account gets maximum fuel to run faster.
Create a Warm Up Your Email account and launch your first campaign to send emails to our users who positively interact with your email to keep future sends out of the spam folder.
Monitor your spam rate
The next and last step is to monitor the stats. You should try to stay at the lowest possible spam rate. Keep your eyes on the ups and downs of your spam rate and try to maintain it whenever it gets worse.
You can simply stabilize this by launching an email warm-up campaign by Warm Up Your Email and get instant insights on your dashboard.
Conclusion
Be specific when it comes to warming up your email because it is a continuous process that can improve your success with cold email.
Create a Warm Up Your Email account to improve your sending.
Consequently, your email account will look healthy and well-reputed all the time, not just during the warm-up period so you see continued success.