Cold emails are still the best choice for finding new customers. But if it goes wrong, it might cost you excessively.
To make your email effective, you have to follow all the do's and don'ts that can help you stay out of spam jail and wind up in the inbox.
Warm Up Your Email Accounts Before Sending Cold Emails
Nothing is more effective than a cold email campaign if it is warmed up properly.
Warming up your email account is like introducing your domain to the emailing world.
If you hide the presence of your email account, it will never be fruitful for you.
Your email account needs the attention of the internet service provider (ISP) and email service provider (ESP) in order for you to be considered a reliable sender.
By doing this, you can ensure your account is labeled an authentic email sender and build a good sender reputation that helps you achieve your cold email goals.
Don't send emails in bulk just after creating a new account. It will ruin your campaign by marking your email spam.
The whole process of email warm-up is to gradually send emails from your new account and increase the number of emails each day to make it possible to land in your recipient's inbox.
This process takes time if you go manually. So why risk spending too much time when you can have an automated email warm-up tool like Warm Up Your Email?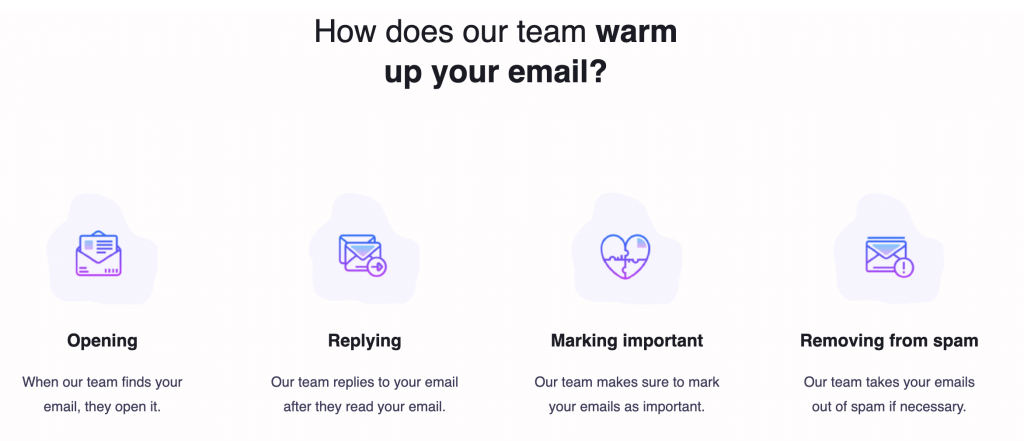 By sending a cold email campaign from your email account to our valid/authenticated list of users, we develop positive engagements with your emails.
All the valid recipients act like real users to make you look like an established sender.
It's as easy as clicking a send button. You just need to set up the campaign and we'll do the rest.
Write a Message That Resonates Instead of Using Templates
Beat all the ready-made templates with the power of your own words because you know your business best.
You can find hundreds of templates out there used by so many of us. So do you think you can resonate with your customers with that?
Research your prospects' needs and challenges that you can help them overcome with your products.
Don't try to copy-paste the same content because not everyone has the same idea and goal you want to achieve.
Understand your product first. Before selling it, make sure to share all the perks that can reduce your prospects' hassles and impact your buyers' challenges.
Draft your message in an empathetic way that can compel the reader to find the solution to their problems in your products/services.
Be Clear & Precise Instead of Using Vague Email Copy
Put yourself in your prospects' shoes.
Read your email after drafting it and try to understand what your prospect will see. If you find it difficult to understand, it means your reader will be in the same boat.
Try to make your email easy to read and light. Keep it precise and clear to help the reader understand better.
Don't try to say everything in one message. Make a sequence and break each piece into a small chunk. It will help you to re-engage your prospect with new stuff every time.
Don't expect readers to read between the lines.
In general, you get 10 seconds to make an impression.
Introduce Benefits First Before Selling Your Product
Concentrate on advantages that you can define to your prospect.
Don't just sell. Show some empathy to their problems and challenges. And ensure them, they can resolve their problem with your solution.
Don't bother with your sales email if you don't know your prospect's needs. Make it more personalized according to your prospect's issues.
Filter Out All the Spam Triggers In Your Emails
You'll become a spammer if something goes wrong with your email.
Spam emails are unethical and unsolicited emails, typically sent in bulk with an unauthenticated email account.
As I said before, you need a warmed up email account before sending cold emails. Otherwise, your email may get marked as spam or the server will overlook it instead of sending it to all the email clients.
You can use a free spam checker to avoid any inconvenience before starting cold email outreach.
This tool helps you warm up your domain and check out your email ID to see if your email would wind up in the inbox or spam for different email clients.

Use Catchy Subject Lines Instead of Boring Ones
Make your subject line more compelling.
A catchy headline is a dream to all the email senders because it makes your reader fall in love with your email.
You can also say the subject line is the first impression and the moment that the reader decides to open your email.
Do research on the subject line and come up with out-of-the-box ideas that can attract your customers.
Don't go for the harsh and unclear subject lines as they may decrease the open rate throughout your email campaign.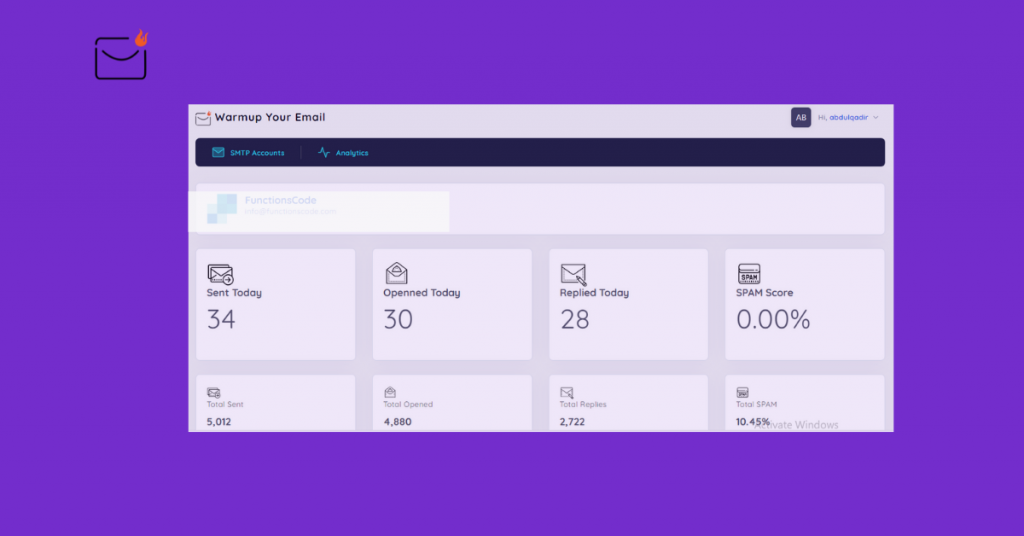 A general subject line impacts less. Instead of this, you can make it more personalized by adding the name or the pain point or challenges that your prospects specifically suffer in their industry. Personalized subject lines are more likely to be opened.
Don't Be Robotic, Be Human
You can use automated email marketing tools, but make sure you sound like a human being.
There's no reason to employ a robot to do a human's job when you already know your prospect's identity and priorities.
A personalized email with engaging content (not so formal, not so informal) will work best.
Add Clear-Cut CTAs Rather Than Sending an Attachment
Your attachment can be ignored but a clear-cut CTA cannot. The CTAs and links must be included to proceed further.
Ask yourself the following questions:
Do I open the email at first sight?
Do I spend time downloading the attachment?
Do I have time to open the downloaded file?
Don't use a long URL. Instead, add the link into anchor text that must be visible and grab the reader's attention.
Your CTA is the most important section of your email.
It can be a demo button or any other action that you want to get performed by your prospects.
Follow Up with Your Prospect
Remind your recipient that you sent an email and are still waiting for their response.
Don't get your email lost, skimmed over, forgotten, or unopened in the recipient's inbox.
Follow-ups are way better than sitting for a month after sending one email. It will also help remind your prospect about you.
Don't do follow-ups the next day. Make a schedule of your follow-up emails and automate them following your initial cold outreach.
Monitor Your Emails Continuously After Running the Campaign
Your continuous effort is needed, even after you run the campaign.
You put loads of effort into running a campaign and should put just as much effort into studying the results.
Do monitor your email stats.
Wrap up!
There are pretty simple rules to follow that you have to keep in mind before starting a cold email campaign.
However, if you are struggling with your new email account, just get started with Warm Up Your Email and establish your email sender reputation in less time and with less effort.